There are a few reasons that you might need a tankless heater. It could be that you're tired of running out of water or simply want to boost the water temperature in your home. Whatever the reason, the Stiebel Eltron 29 will be able to give you a continuous flow of hot water.
The electric heater can cater to all your water needs to ensure you're never left frustrated or shivering in your shower. In this review, we will look at its best features along with any downsides you need to be aware of.
Once you've finished reading this review, you'll know whether or not this is the right tankless water heater for you. That said, don't forget to visit our article that details the best electric tankless water heaters. Let's get started!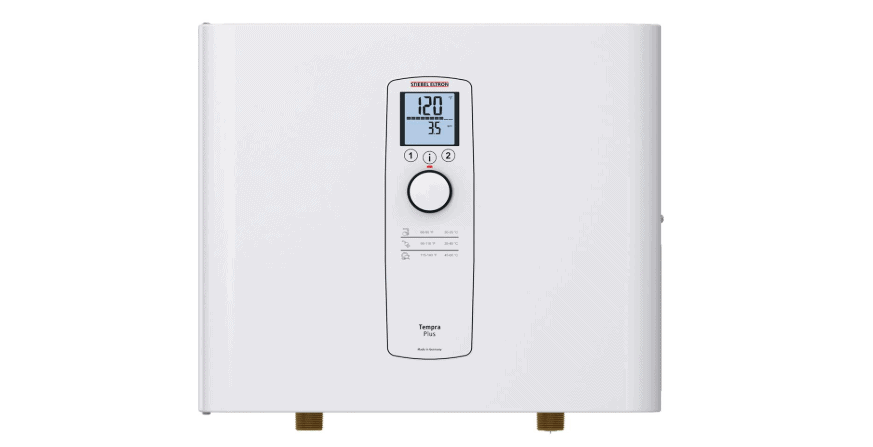 Best Features
The best feature of this water heater simply has to be the amount of confidence that you can have in it. It will easily be able to heat the water that passes through it and you will get a constant flow whenever you are bathing or washing.
It's not just the fact you can get instant hot water. The water not only comes through at a consistent rate but it also comes through at a consistent temperature. You won't get any hot or cold spots as the auto modulation will keep it coming at your perfect setting.
Aside from that, another great feature is the reduction in costs when compared to a tanked electric water heater. Not constantly having to have a full tank of hot water makes everything a lot more efficient and easier to run.
The ease of use is also helped with the digital display it features. Temperature changes can be easily adjusted and you will also get to see a savings monitor which will let you know just how much hot water you are using.
Having a present memory will also make it simple to use. To go with that, the copper heating chambers to go with the overall build quality make it a brilliant tankless water heater. It ticks all the boxes and leaves you with brilliantly hot water every time.
Things To Know
While this is a great water heater, you're probably not going to be able to install it on your own. Not only does it require expert plumbing but also an electrician too. If you are confident in one of those disciplines then you might be able to save yourself some money.
You will also need other items to be able to complete the installation. The likes of amp breakers and braided water lines will be required. When taking into account the cost, it's also a good idea to consider the installation costs too.
Best Comparison
This Stiebel model is a great tankless water tank but it isn't the only option that you have. The EcoSmart ECO 27, for example, is another great option which ranks highly in our tankless water heater reviews. It is a more affordable option which can give you plenty of savings on your heating costs.
The digital temperature control is very easy to use and the whole system has an impressive level of durability. It also has a compact size which makes it easy to hide away out of sight. There are also plenty of buying options to get the right level of power for you.
It does fall down in some key areas. It doesn't quite have the same consistency or reliability of the Stiebel Eltron and the warranty also isn't the best. It doesn't have the same level of quality but it's still a very good option for those looking for a cheaper model.
Price
There is no getting away from the fact that this is quite a pricey heater. There is a saying that you get what you pay for and that is definitely the case here. It's a heater which is far superior to many of its rivals and with that cost comes quality.
If it is a little out of your price range, then there are still great options out there for you such as the EcoSmart ECO 27. The key question to ask is whether or not the Stiebel Eltron 29 is value for money and you have to say that it is.
Personal Opinion
While it may be a first-world problem, having cold or hot spots in your water, or running out of hot water altogether can be a nightmare. This tankless water heater is simply brilliant at ensuring neither os those things happen. It's a brilliant model and one which gives you a lot of confidence in your heating.
Summary
If you're looking for a premium level tankless water heater, then this will be the right option for you. It's flawless in its operation and once you have it installed, it'll make your life a lot easier. It is highly recommended for anyone who wants consistent got water flow.