Rinnai RUC98iN Ultra Series Natural Gas Tankless Water Heater is one of the top rated tankless water heaters around and for reasons. It is a step further in its category for its condensing technology and innovation that makes it more efficient than the rest is.
There is no wonder as to why it's been chosen by more users worldwide. The brand's able to design and create a tankless heater that you would expect from a Rinnai, a trusted brand of tankless water heaters.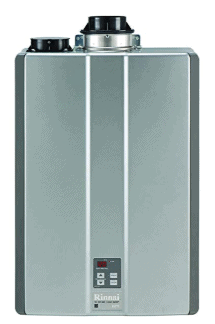 Features
Efficiency
One of the main benefits of using a tankless water heater is utility and energy efficiency. It doesn't have to heat up a huge volume of water in a tank, saving energy in the end.
It is also cost-effective than traditional water heaters do. Surely, you need to consider this factor because it is to save you money consistently and for the long haul.
For example, it does last longer than regular models do, too. This model can serve you for at least 20 years versus the max of 15 years lifespan of traditional heaters.
Another thing worth mentioning about this model is its high-energy factor of up to 0.96. It only means a higher energy conversion efficiency of the equipment. If you're looking to install only energy-efficient systems in your home or business, you might want to check out the Rinnai tankless water heater.
Space saving
An indoor installation is what many of us are looking for especially among people living in an apartment or any other small dwelling like a condominium unit.
The Rinnai RUC98iN is a great choice for is small dimensions and compact footprint to adapt to premium spaces
Energy savings
Another thing to like about the tankless heater from Rinnai is its energy savings offering us 95% Thermal Efficiency. It makes use of propane or natural gas to run.
With the Rinnai water heater, you and your loved ones will enjoy warm water for the shower in the winter but without you spending much on utility bills.
Easy installation
This product doesn't require a complicated installation at all unlike conventional water heaters. Just follow the instructions closely, and you're good to go.
Low NOx Emissions
NOx can be harmful and an issue in some water heaters using the process of combustion. But you don't have to worry about that when you choose the Rinnai RUC98iN.
It can offer high efficiency operation but without any worry on the NOx emission at all. So if you want to protect your loved ones from its harmful effects, you might want to check out this tankless water heater.
Hot water on demand
In addition to energy-efficiency, tankless models like this Rinnai are your perfect ally for water on demand. It is compact yet powerful enough in supplying you and your loved ones with hot water especially in the chilly, cold winter months.
So aside from lasting longer than conventional tanked systems, this item can give you hot water without any interruption no matter how large the volume of hot water you need it to produce for the day.
Good warranty
This model is with a generous warranty like its 12-year warranty on the heat exchanger, one year on the labor for residential users and five years on the components.
With that said, you can have peace of mind of help when something goes wrong with your equipment. Warranty is one of the things to consider when shopping around for such water heaters to ensure that you can get assistance when you need it.
Remember….
While tankless heaters like this one is efficient, it can corrode over time due to mineral accumulation from its interior.
And for that reason, it might not work as well as it is brand new.
A little purging system in place can help especially if you frequently use it. This process will ensure that the minerals will not accumulate inside and affect its performance.
Otherwise, its inside will corrode, causing low efficiency and a possible damage to the heating mechanism.
And just any system or equipment using gas, you should think about a venting system. The good thing is that this model has a venting option, so you can rest assured of having no problem at all. Consider where to install it, and have a proper venting system for it.
Pros
Energy-saving for high-efficiency
Long 12-year warranty on the heat exchanger
Fits small spaces
Durable and heavy-duty performance
Little NOx emissions
Cons
Needs commercial controller for commercial use
VERDICT
The Rinnai RUC98iN Ultra Series Natural Gas Tankless Water Heater is a top of the line and definitely one of the best in its class. It won't let you or your family down especially when you need hot water the most. It is sleek, compact and efficient.
The tankless water heater also has little NOx emission, so there is no worry about any contaminants at home. It is safe to use, too, so it deserves a second look and consideration. Get it now!