Gas-operated tankless water heaters can last for at least 20 years that's longer than conventional tank-type models do. They can also work longer than an electric model that can last for only up to 10 years on the average. They can also be efficient, space saving and eco-friendly.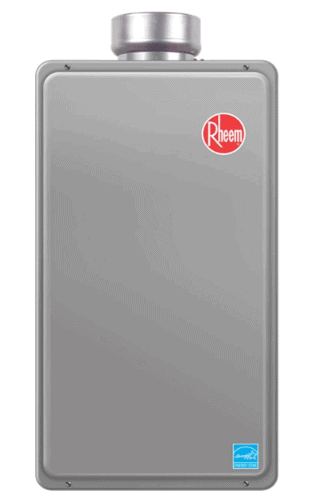 One of the most popular choices for these qualities is the Rheem RTG-64DVLN. Check out this cool review below.
Features
Easy Installation
The Rheem tankless model installs in a breeze. There is no way that you would have a hard time to get it set up.
It is one of the features to look for when shopping around for a water heater. If not, you might have to spend much on the installation alone.
This model also comes with a 10-feet thermostat wire, so you don't need to buy it separately.
You'll also appreciate the easy to use UMC-117 remote control that comes with it for quick and simple operation.
Direct vent technology
The Rheem RTG-64DVLN utilizes the direct vent technology. What does it mean? It only means that it's able to pull outside air and has two vents meant for the intake and exhaust of the unit.
With the direct vent, the tankless water heater can take up less the space that a standard water heater would normally occupy.
It is unlike a power vent unit that needs an exhaust vent only and requires a large space for enough air for burning.
Hot water on demand
Never run out of hot water again! In the winter or in chilly nights, you don't need to worry about running out of hot water for your loved ones.
As the heater works as needed, this unit supplies you what you need without long waiting times you'd normally do for tank models.
So in the long winter, you can get your desired hot water supply for the shower, cooking or food preparation.
Low NOx
The RTG-64DVLN is an ultra-low NOx water heater that you might want to consider for health and safety. It is another thing to check when weighing your options on tankless water heaters.
Natural Gas Tankless Water Heater
It makes use of the latest in technology to improve the efficiency of gas as fuel in tankless water heaters. Rheem RTG-64DVLN can offer you with the solution you're looking for hot water anytime.
With it, you don't just get continuous supply but also ensure of efficient energy use. The Rheem tankless gas water heater is energy saving and economical, giving way for better performance.
Space saving design
The tankless water heater is small and has a compact footprint. You don't need to worry about a large area for installation versus the traditional water heaters on the market do.
Efficient operation
Another thing that makes the unit a great pick is that it can heat up to 6.4 gallons per minute at 35-Degree Rise. You will love its performance, which won't be affected at all by any weather.
Integrated Condensate Collector
Now, there is no need to worry about any assumed leaks because this model includes a condensate collector built into the unit. This feature also makes the tankless water heater one of the best tankless water heaters to operate.
Innovative
The Rheem tankless water heater is designed and made using only the latest in innovation. It is what homeowners looking for an energy-efficient tankless water heater that works overtime but without consuming as much fuel as other models on the market.
This product also comes with the Next Generation Burner Technology that makes it more efficient. Homeowners also have the choice of connecting two tankless units to work as one for high demand applications.
Remember to,
Plan and think ahead on where to install the tankless water heater to save on money and experience the convenience of having hot water on-demand.
The RTG-64DVLN is a natural gas tankless water heater. You're advised to get help from a professional to install it for you. Natural gas is a combustible material, which can cause accidents like fire; thus, you should get a professional installer to set it up for you.
While the tankless water heater is also low in maintenance, check it from time to time, or have a professional inspect it to prolong its lifespan.
Pros
Direct vent
Low NOx Version
Includes 10 feet thermostat wire
Space saving design
On-demand hot water supply
Cons
Verdict
Overall, the RTG-64DVLN is a great choice for homeowners looking for a compact and space-saving design that installs in a breeze.
It is a solid unit that can supply you and your loved ones with hot water on-demand. Just like other tankless models, it's perfect for tight spaces and among homeowners looking for a low NOx model.
Nevertheless, Rheem is a decent brand that can offer you with quality and durable tankless water heaters. Summing up, the Rheem RTG-64DVLN may be the tankless model that you're looking for its innovation and efficiency.
Get yours today!