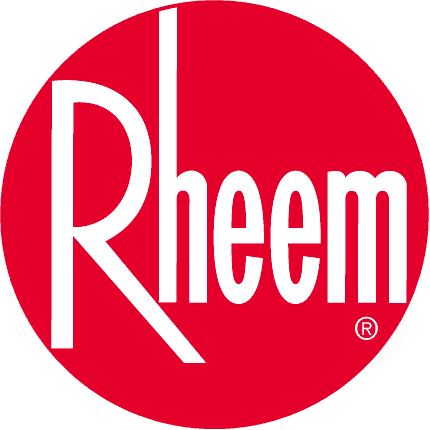 Looking for a Rheem tankless water heater reviews and information? See our comprehensive brand and product line overview below. Whether it is gas or electric, big or small, Rheem has you covered.
Rheem was established in 1925 in California, U.S.A. With nearly a century of water heater experience, Rheem has sought to continuously innovate to bring superior products to consumers. Rheem has committed itself to sustainability goals, including reaching zero waste by 2025. Rheem's tankless water heater products provide consumers with greater control over their water consumption. Rheem's long standing presence in the water heater industry, provides a familiar name on new tankless technology. Explore their leading tankless products and read the latest reviews below.
Best Rheem Tankless Water Heaters
Model
Features
Price
1. RTEX-18


Electric
Indoor Installation
4.4 GPM
Great Value

2. RTEX-13


Electric
Indoor Installation
1.5 GPM
Great for Point-of-use

3. RTGH-95DVLN-2


Natural Gas
Indoor Installation
9.5 GPM
Best Whole House Gas

4. RTGH-RH10DVLN


Natural Gas
Indoor Installation
11 GPM
High Efficiency Condensing



5. RTEX-24

Indoor Installation
5.9 GPM
Electric
Whole House



Rheem Tankless Water Heater Product Line Reviews
Professional Classis Series – Electric
If you need an electric tankless water heater, Rheem has you covered with the Professional Classic Series.  With flow rates ranging from 1 to 9 GPM, these heaters can match many applications.  Primary usage Includes point-of-use and whole house and providing a continuous stream of instant how water.  The self-modulating power control is a great feature to manage efficiency and performance.  Additionally the digital thermostat provides a precise control of the temperature for the user.  You can also easily turn these units off to conserve energy. 
Installation of these models is standard with an ¾" connection on the bottom of the unit. The quality construction also features durable Copper Immersion heating elements.  These units are backed by the Rheem name and built to last.  If you are powering a single sink or a full home, you can find the right size for your need.  See our table below for a summary of your options.
Professional Prestige Series – Gas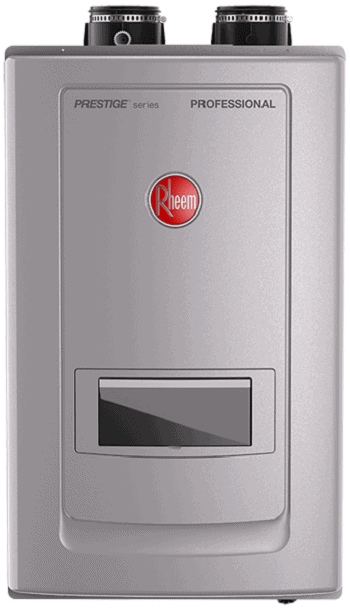 Rheem has a large variety of models under the Professional Prestige Series. Some of these models are condensing tankless gas water heaters with built-in recirculation pumps. These indoor-only models in the Professional Prestige Series are highly efficient with high water flow rates (approximately 10-11 GPM). They have a high-efficiency rate (approximately 94%) and feature a programmable, timer-based activation to reduce water waste. 
The outdoor-only version of these models in the Professional Prestige Series are also highly efficient with a max 9.5 GPM water flow rate. These models measure at 93% efficiency and offer a built-in condensation neutralizer. All the outdoor models are equipped with EcoNet Smart Home Technology. This allows the user to adjust the water heater settings via mobile app. The heat exchanger in these units is stainless steel, so these water heaters are durable. Making them great for harsh or particularly cold climates. The outdoor models under the Professional Prestige Series all qualify for an Energy Star. 
Tankless Mid Efficiency Series – Gas
Rheem also has a wide variety of tankless, mid efficiency indoor tankless water heaters. These units all operate on natural gas and feature a recirculation pump. Additionally they are equipped with a copper heat exchanger to maximize heat transfer. All also come with a 12-year limited warranty. These units measure at 82% efficiency, which is average for the industry. The Mid Efficiency series has a max 9.5 GPM water flow rate, big enough to supply most homes. 
The Tankless Mid Efficiency series have advanced technology features. These units are equipped with EcoNet Smart Home Technology. This allows the user to adjust the water heater settings via the EcoNet mobile app. The units also offer an exclusive water savings setting. Which reduces flow at the tap until a particular temperature is achieved. Homeowners reduce up to 1,100 gallons of water waste per year! Finally, homeowners can also elect to receive maintenance notice settings after 500 hours of use. 
Rheem vs. Noritz
Rheem is slightly more affordable than Noritz. With water heaters ranging from $200 to $3,600, Rheem is better for those consumers on a budget. Unfortunately, the more affordable options are not well-suited to homes with more than 4 people. 
Otherwise, Rheem offers similar technical specifications in their products to comparable models from Noritz. Noritz, on the other hand, provides on average a better warranty on their products. Some tankless water heaters have 25-year warranties, while others have 15-year warranties. Warranty lengths vary depending on the model of the water heater. Noritz offers a 12-year, non-prorated warranty on every unit at a minimum. In contrast, Rheem offers a 12-year standard warranty for their products. 
Ultimately, Noritz is a better brand for those who can afford the costly investment. Otherwise, Rheem will likely meet the needs of most people both in terms of features and in price. 
Rheem vs. Bosch
Rheem and Bosch tankless water heaters both offer quality products with similar technical specifications. They also feature similar price points. However, Rheem tankless water heaters supply hot water faster than a comparable Bosch tankless water heater. Additionally, in product reviews, customers consistently report higher satisfaction with Rheem water heaters than with their Bosch counterparts. When comparing similar models, Rheem appears to offer slightly better features and performs better at the same price. 
Rheem vs. Takagi
Both Takagi and Rheem are excellent brands and are highly similar. It is near impossible to objectively determine whether one brand is better than the other. Both have similar technical specifications. As a comparison, here is a Rheem Tankless Water Heater and here is a Takagi Tankless Water Heater. Both models offer excellent flow rates, operate on natural gas, and are almost identically efficient. Whether you choose to go with a Rheem or Takagi tankless water heater, you will be satisfied with your purchase. 
One benefit to Rheem is that it offers such a wide range of products at different prices. Rheem tankless water heaters range from $200 to $3,600, so there is a water heater that can meet every budget.
Rheem vs. Rinnai
Rheem is likely Rinnai's largest competitor in the tankless water heater industry. Both brands offer quality products and similar technical specifications. Rheem offers both gas and electric tankless water heaters, whereas Rinnai only offers gas tankless water heaters. With Rheem, consumers have a wider selection of products to fit their needs. 
Rinnai, on the other hand, is the expert at incorporating state-of-the-art technology in their tankless water features. If Alexa integration is important to you, Rinnai will be the better fit for you. Although Rheem offers some advanced technology, they still fall short of all the bells and whistles Rinnai has to offer. 
Based on the technology specifications and price point, neither brand is resoundingly better than the other. Much like between Rheem and Takagi, consumers will likely be satisfied with whichever option they choose. 
Rheem vs. Navien
Navien is best known for providing the most efficient tankless water heaters on the market. Which boast an impressive 97% efficiency. They tout that their eco-friendly technology can reduce energy consumption by 20%. Several models of Navien water tanks offer impressive technical features. For example, with the Navien NPE-240A, the water heater offers a water flow rate of 11.2 GPM. This model of water heater can reach a temperature as high as 160 degrees. It is Energy Star certified, which ultimately saves you money on your water and gas bills. 
Between Rheem and Navien, Navien offers superior performance and better efficiency. 
Rheem vs. Ecosmart
Ecosmart is a relatively new brand to the U.S. This means that it hasn't had the time to establish a strong brand presence like Rheem has. 
However Ecosmart is quickly becoming a formidable competitor to Rheem. With a lifetime warranty and self-modulating technology, Ecosmart electric tankless water heaters are durable, efficient, and precise. The lifetime warranty extends to the electronic panel, heat exchangers, and additional elements. Rheem's 12-year warranty looks weak in comparison. 
Ecosmart water heaters have consistently positive reviews because they are reliable and highly efficient. They are a solid choice for consumers, but are likely not as popular as Rheem.
What Does Rheem Tankless Water Heater Cost?
Rheem's FAQ page specifically addresses the question of cost. Without providing specific list prices, Rheem advises that tankless water heaters may cost more than a standard water heater. It will, however, have lower operating costs and leave you with more useable square footage. 
When evaluating list prices from authorized Rheem distributors, it's clear that there is a broad range of costs. Rheem offers tankless water heaters for as little as $200 and as expensive as $3,600.
Rheem Tankless Water Heater Maintenance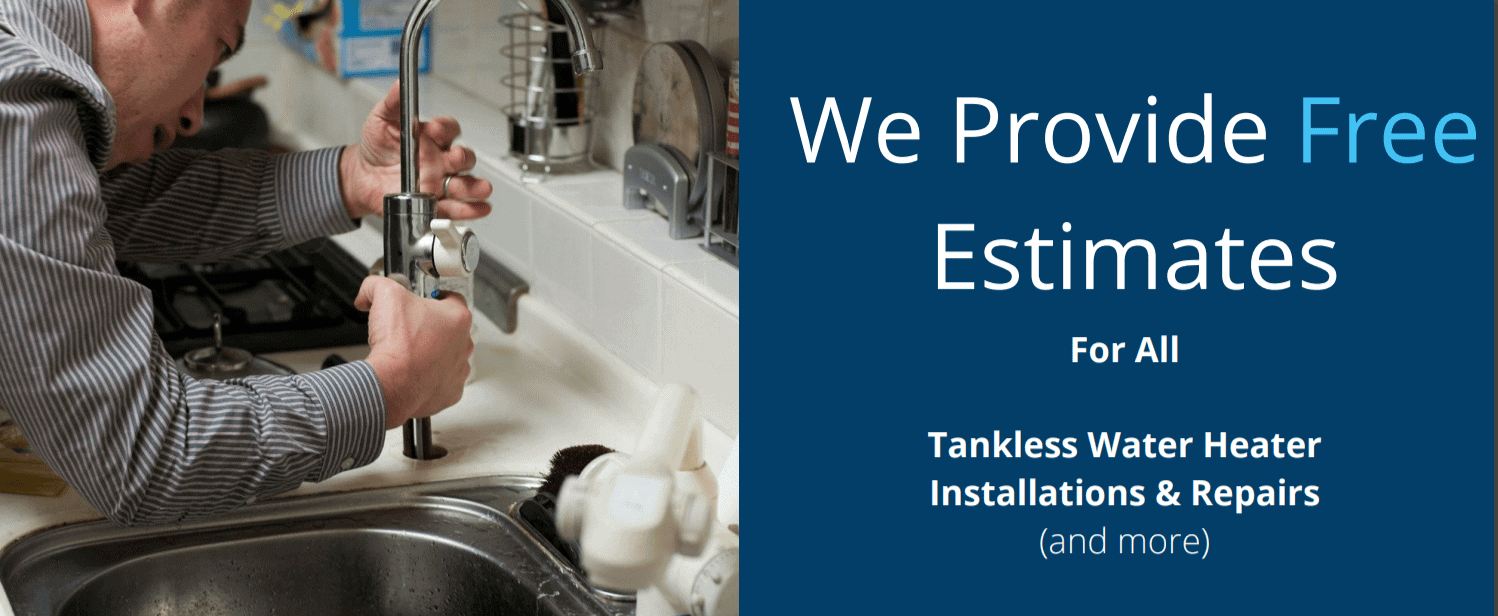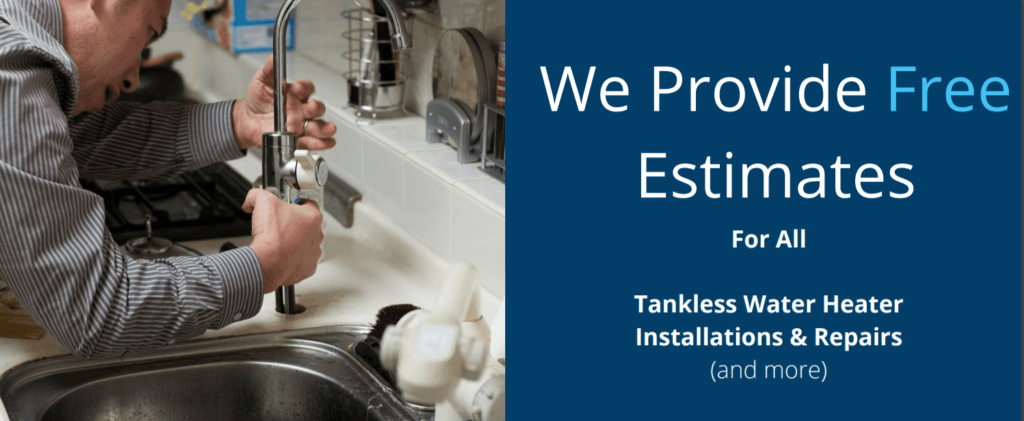 Tankless water heaters do not require much maintenance. They should be regularly serviced to make sure that your water heater continues to operate optimally. At least annually, if not biannually, Rheem tankless water heaters should be flushed to prevent scale buildup. Additionally, all components should be inspected for wear and to determine if a replacement is necessary. Some models of Rheem tankless water heaters are enabled with WiFi, which can send maintenance reminders to your phone. Some models also have integrated Wink and Nest. Great for those technologically savvy homeowners who want all their home technology to work together seamlessly. 
Rheem Tankless Water Heater Parts
Rheem makes it simple to obtain replacement parts on their website. Their online Rheem Store provides high efficiency, quality, durable replacement parts for your tankless water heater. However, the only way to purchase equipment is to contact a contractor through their search function here.  
Replacement parts can also be sourced through The Home Depot, which sells a variety of replacement parts and accessories. For example, Rheem tankless water heater owners can purchase this recirculation pump kit or this vent attachment. Similarly, the online retailer Supply House also sells a variety of replacement parts and accessories for Rheem tankless water heaters. Some of the items available for purchase include this control board and this water heater controller. 
Rheem Tankless Water Heater Service
The Rheem website offers to connect customers with certified Rheem dealers through their search function here. This makes it easy to find reliable, knowledgeable contractors or plumbers who can provide services like installation or repairs. 
Do you have a tankless water heater under a different brand and are looking to make the switch to Rheem? This website provides a Commercial Water Heater Product Cross Reference. This tool makes it easy to find the manufacturer of your current tankless water heater. Just select your model number, and then find if there is a comparable . You can even get a direct link to the closest model.  
Rheem Tankless Water Heater Warranty
Rheem generally provides a 12-year warranty for both the heat exchanger and components. This is an average warranty length for tankless water heaters. It's not the shortest or the longest, but competitive for the industry. 
Make sure you get installation by a qualified, trained professional, to ensure your warranty is honored. This requires an in-person site visit, inspection, and installation by a professional.
Rheem Tankless Water Heater Customer Service
Rheem provides a special customer service team every day of the week, from 7 AM to 7 PM Central Time. The customer service representatives who staff the phone lines provide fast, reliable service. Ready and are well equipped to answer any questions related to your water heater. This team is specifically dedicated to tankless water heater customer support. 
Phone Number: 1-866-720-2076 
Rheem also provides customer service specifically for warranties and parts-related issues. They are available on weekdays between 7:30 AM and 5 PM Central Standard Time. 
Phone Number: 1-800-621-5622
Rheem additionally provides customers with an opportunity to submit inquiries, questions, or comments through an online form here. 
Customer Reviews/Perception
Rheem has the most comprehensive sustainability plan and approach. They have outlined specific goals and missions, and detailed the efforts they have taken to meet those goals. Rheem is also extremely involved in sustainability and charity causes around the world. For those environmentally conscious consumers who want to support companies that strive to leave a positive impact on the world – Rheem is the perfect fit. 
In product reviews, customers tend to have a positive perception of Rheem. Many customers state that their Rheem unit was easy to install and works well. They also say the cost savings is clear and immediate. Across multiple platforms, Rheem units consistently achieved 4/5 star ratings and had a particularly high proportion of 5 star ratings.
Looking for the Best Tankless Water Heater? See our top picks!