Note: A number of Navien tankless water heaters are discontinued. We recommend you see our full list of the best tankless water heater reviews if you're in the market for a new unit.
About Navien
Navien is an international organization with a rich history in water heater and boiler technology that dates back to the 1970s.  Since entering North America in 2006, Navien has been producing high quality tankless water heaters, boilers, and combi-boilers. Navien's focus is on creating energy efficient and reliable units. Their residential line of tankless water heaters come in several varieties to match many different applications. Below, we help you determine if a Navien heater is right for you. Read our complete Navien tankless water heater reviews below to find the right model to fit your needs. You'll also gain some tips for successfully owning and operating a Navien unit.
Navien Tankless Water Heater Reviews
What separates Navien tankless water heaters from other brands is the quality and energy efficiency. Compared with other products reviewed on this site, the Navien condensing line offers the highest Energy Factor (EF) ratings. This means that more of the energy required to operate is directly output via hot water for your home.
The standard condensing unit boasts an EF of 0.99, so there is almost no energy waste in operation (99% converted to heat!) This means that you're maximizing your bang for the buck.  Upfront costs for these heaters, however, are on the higher side of the products that we've reviewed. Additionally, this may not be for the buyer looking to DIY, as availability is somewhat limited and offered primarily through their network of certified installers.
The Navien line offers several options depending on what is most important for your application. All models are designed to provide heat for an entire home, with flow rates of 8-12 Gal / Min (at 35 degree temp rise). All models are also gas powered, so you'll need to look elsewhere for an electric unit [see: best electric tankless water heater]. The primary variables that will impact your decision are energy efficiency, features, installation location, and cost.  We explore each of the factors in detail across their entire line of units below.
NPE series – Advanced (A) and Standard (S)
The NPE series offers the ultra high efficiency condensing technology that makes Navien stand out from the pack.  These models have near perfect EF ratings of 0.99 (for the Standard) and 0.97 (for the Advanced). Meaning these units convert almost all of their energy to heat. Compare this to 0.81 for your average tankless water heater. This difference can mean a significant operational cost savings over the life of the unit.
Both of these models offer versatile installation options, indoor or outdoor. The Advanced model has a few more bells and whistles including Navien's trademarked ComfortFlow system (more on this below). A NaviLink (optional) Wi-Fi connected remote control is another high tech touch. The NPE series is more expensive upfront than the non-condensing NPN line, but they offer efficiency that is unmatched. This can offset this additional cost over time through operational savings. Depending on the size of your home, one of the four sizing options of (120K, 150K, 180K, or 199.9K) will support a continuous stream of hot water to all of your fixtures.
NPE Series Models
NPE-180A – 150K BTU
NPE-210A – 180K BTU
NPE-240A – 199.9K BTU
NPE-150S – 120K BTU
NPE-180S – 150K BTU
NPE-210S – 180K BTU
NPE-240S – 199,9K BTU
NPN Series – Universal (U) and Exterior (E)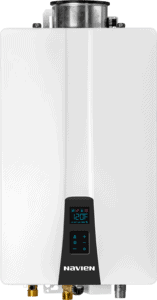 Navien's non-condensing line is a good option for a solid quality heater, in a more compact package. The non-condensing units have lower upfront costs, which makes them more price competitive versus other widely available brands. The Universal model can be installed inside or outdoors, while the Exterior can only be installed outside. Both models are built with stainless steel heat exchanger and burner components that promote durability and contribute to very low NOx emissions. The universal model has an integrated control panel on the front of the unit which allows you to adjust water temperature, provides an operational status, and allows you to troubleshoot any issues. Controls for the Exterior unit are behind the cover panel and require more effort to manipulate.
NPN Series Models
NPN-160U – 160K BTU
NPN-180U – 180K BTU
NPN-199U – 199.9K BTU
NPN-160E – 160K BTU
NPN-180E – 180K BTU
NPN-199E – 199,9K BTU
Navien vs Rinnai
We're often asked to compare these two brands. While they share many similarities, the biggest differences relate to the efficiency and warranty. The condensing technology offered by Navien in the Advanced and Standard lines provides an energy factor that is unrivaled by other gas tankless heaters, including Rinnai. The Navien warranty is also superior to Rinnai with coverage of key components, including the heat exchanger, up to 15 years. These improvements, however, will cost you. Navien heaters are typically more expensive than Rinnai, especially if you factor in the need for a certified installer.
Navien Customer Service
For the contractor and the home owner, Navien's technical customer service team has a strong reputation in the marketplace.  Many common issues can be resolved over the phone with basic troubleshooting. Additionally, via the Visual Support – RemoteCall app, you can connect directly with a technician to visually review your issue. Once connected they can help to see what is occurring and determine the best course of action.
Navien Replacement Parts
For repair and replacement parts, it is recommended to deal directly with the manufacturer or an authorized wholesaler.  As mentioned above, Navien controls distribution through a network of installers and approved wholesalers. Using non OEM parts or buying from non-approved channels may void your warranty. If you are having issues with your heater or need to find replacement parts, contact the manufacturer before going too far on your own.
How Long do Navien Tankless Water Heaters Last?
While every Navien owner's experience can differ widely, their manufacturer's warranty lasts for 15 years. Compared to the typical lifetime of a tanked water heater of 8-12, this is quite solid. To ensure you get the most out of your unit, we recommend having a professional install and service the unit. If you've owned or installed a Navien unit, we encourage you to share your experience in the comment section at the end of this review.
Navien NPE-240A Review
I hope the overview was helpful in narrowing your focus.  While we are fans of the entire line, we have the most experience with the flagship model, the NPE-240A. Below are some of our favorite features (all present on this model), the Pros & Cons, and a few useful tidbits to remember when making your decision.
Pros
Ultra-high efficiency ratings
Recirculating technology for truly instant hot water
Supports indoor and outdoor installation
Integrated control panel with error display
Cons
On the expensive side
A little high tech for the average DIY installer
Limited availability – Only through authorized dealers
Features
Comfort Flow Technology
The NPE-240A touts the brand-exclusive Comfort Flow technology. This feature provides a recirculation of hot water through your supply lines – which means that your water is always hot instantly, effectively eliminating all wait time, saving you money on the water bill.  This is achieved through a combination of a buffer tank within the unit and a built in recirculation pump.  These components also help to maintain a consistent temperature throughout usage.
Condensing Efficiency
While we reference the efficiency as a key differentiator above, it's worth mentioning again as the Navien condensing technology actually puts these heaters in their own class with EFs of 0.97 (for the 240A) and 0.99 (for the 240S). Note that while the comfort flow feature on the Advanced does eat into the energy savings, it is more than offset by the water savings from having immediate availability of hot water. Overall, the energy savings are meaningful over the life of the unit when compared to your average tankless unit. A typical tankless unit might have an EF of 0.82; therefore, this Navien unit might be a better fit for your needs than the heater you might be looking to replace.
Highly Responsive Control Panel
The Navien NPE-240A Premium Condensing Tankless Gas Water Heater, despite all it can do, is one of the simplest models to operate. Its interface not only allows you to set the recirculation mode but also comes with a diagnostic button to let you troubleshoot and rectify minor faults automatically. And then there is the master button for cascade operation and one that gives you basic information such as the temperature at which the water is heating.
I particularly love the up and down push buttons that enable you to increase the temperature at 1 degree Fahrenheit in the range of 98 degrees Fahrenheit to 140 degrees Fahrenheit. You can also use a remote control to fine-tune the NPE-240A but it's an optional accessory.
… Remember to
Vent the NPE-240A Properly – To make the most out of this heater, you must vent it in a way that ensures a constant flow of fresh air and exhaust of combustion gases. Be sure to use the 2 inch PVC, PP, ABS of CPVC venting pipes with a length of about 60 ft or 150 ft if you use a 3-inch pipe.
Use the Cascading System for More Hot Water – This unit has an integrated control feature that allows you to connect up to 16 units to the Navien Ready-Link communication cable if your demand for hot water is high. And the beauty of it is that you won't require extra elements.
Take Advantage of the Useful Add-On Features – The NPE-240A is compatible with your home Wi-Fi. That way, you can use your smartphone to control the water temperature, check the status and receive notifications in case of a malfunction.