The APEC ROES PH75 is a top of the line reverse osmosis system that's been carving its name in the industry. If you're looking for a high-quality reverse osmosis system with the functions and features needed, you might want to keep reading in the following.
Quality and trusted name
One of the best characteristics of the APEC Top Tier Alkaline Mineral reverse osmosis water system is its top quality. Based on many reviews, users were noting that it's a reliable system that delivers to its promises for cleaning and filtering water and getting rid of impurities out of it.
This item is engineered, design and assembled in the USA. It works to deliver water safety for everyone in the family. Using this system, you can have peace of mind of protecting your family's health and keeping them safe from contaminants that would otherwise cause sickness.
Bacteria removal
Another thing to appreciate about the 6-stage powerful reverse osmosis system is its efficiency in removing bacteria. It is unlike any other systems for its power in eliminating many types of contaminant like cysts, bacteria, chemicals and organics.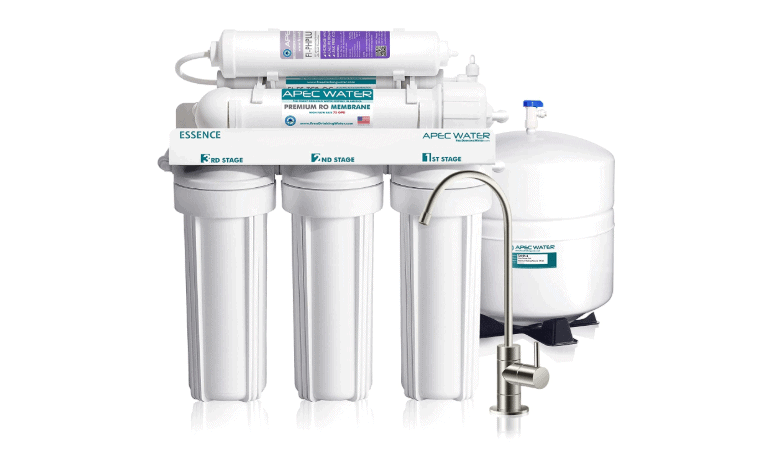 With this said, you can have peace of mind that you will be able to resolve your water issue like contamination from many types of impurities and pathogens.
So if you don't want to spend much on hospitalization and medication due to water borne diseases, you might want to install this reverse osmosis system into your home. Also, it has a feed water pressure between 40 and 85 PSI.
Calcium infused US-made cartridge
In addition to the above, this system is made with a US-made cartridge that is added with calcium, which is food-grade for human safety.
It is proven safe for pH enhancement of the water so that you can enjoy drinking better not only for hydration but also for health.
The added calcium minerals improve the taste and the alkalinity of the water. In the process, you can ensure that drinking and cooking water is made healthier for improved digestion and gut health.
Heavy-duty filters
If you want a topnotch reverse osmosis system, you should also consider it heavy-duty and long-lasting filters. High quality filters can ensure of a properly working reverse osmosis system.
Following, you can also have peace of mind that your system remains functional for treating tap water or well water for a longer time. In addition, you don't need to change the unit's filter frequently.
Rest assured, your family would get unlimited clean drinking water all the time.
Alternatively, you might also want to check out the Home Master HydroPerfection System. This system can deliver pure water all the time because of its advanced purification and filtration that can eliminate up to 98% of impurities like heavy metals, iron, chemicals and other common contaminants.
Includes a designer faucet and tubing
The complete system is with an FDA-certified JG food grade tubing as well as a lead-free faucet that makes this system a sure value for the money. You might want to check it out if you're looking for sure value system. By choosing it, you don't only have clean water but you also get top savings.
Leak-free fittings are also included. With this said, you don't need to worry about leaking filtration systems that would cost you money in the end. The fittings included do not require lock clips in order to seal the leak, but it works by itself without needing such clips. With these fittings, you don't also have to buy and depend on a leak detector.
Other highlights
In addition to the above, it is not to forget that this reverse osmosis system is with easy to follow instructions. You will be prepared for its installation for it. More so, there are YouTube DIY videos available, so you are basically ready to install it.
It can also offer a noise-free and trouble-free operation. This item can work without much noise generate unlike other items in the same category do. You can rely on it for pure drinking water all-year round. You might want to see it for yourself if you don't want to spend on frequent maintenance, too.
Pros
6 stage reverse osmosis system
Easy to install
Gets rids of up to 99% contaminants
Includes needed hardware
Improves water alkalinity
Easy to follow instructions
DIY videos available
Adds food-grade calcium minerals to water
Cons
Flow might feel slow for some people.
Verdict
Overall, the APEC ROES PH75 reverse osmosis system is a top of the line product that you should take a look at if you want a durable and efficient system to last for years.
It operates with little noise, requires not much maintenance, and eliminates up to 99% of contaminants. So if you want to keep your family healthy and safe, you can check out the APEC water system that can help you on that.